The World Cup is over. The King has made his decision to leave the Heat and return back home to Cleveland. And there's 3 weeks until the start of NFL pre-season football. If you're in a town where your MLB team is 10 games below .500 I imagine the 8 dollar beers aren't as refreshing as they were in the beginning of the season. So what now?
We all knew the World Cup final was on Sunday between Germany and Argentina, but perhaps a nap, yard work, or some outdoor fun took precedence. After the USA was eliminated, if you didn't feel "united" enough to head to a sports bar or go to one of these big-screen viewing parties we've all been seeing, don't feel alone. After viewership of 24.7 million and 21.5 million in the final USA matches, the highest viewed post-USA World Cup game was Brazil vs. Columbia, which reached only 11.84 million viewers.  Now it'll be another 4 years till we watch soccer again.
The discussion and anticipation around Lebron's decision was exciting and it seemed everyone had an opinion…or at least a hope (…wish or dream). But back to Cleveland he goes. It appears he made his decision to go back just in time to mentor the young Johnny Football. Lebron "King" James and Johnny "Money" Manziel might be the biggest economic stimulus package Cleveland has ever seen. I'm sure the first NFL pre-season game, Pro Football Hall of Fame Game on August 3rd in Canton, Ohio will see a large amount of traffic flow down from Cleveland. But that seems like a lifetime away.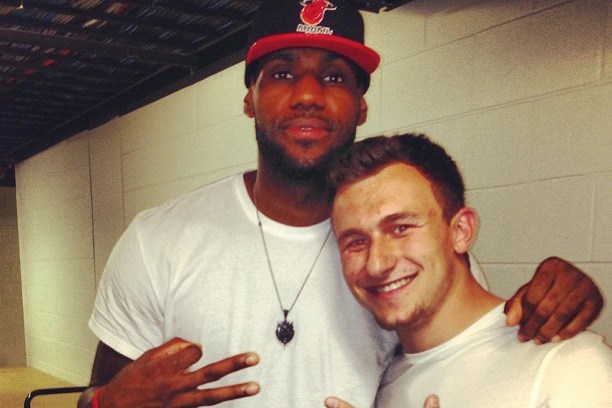 One upside for sports lovers is the 85th MLB All-Star Game tomorrow evening on Fox! Tonight's homerun derby will likely draw more viewers than the game itself, but the excitement has been diluted by the World Cup; the beach, lakes, and Summer concerts; and some big cities with losing records. Perhaps it's the declining attendance of the MLB ballparks, the lack of cable viewers, or a reduced marketing budget of the MLB, but a baseball game in the Summer doesn't have the same feel as it used to. So if your team is below .500, what are you going to do to fill the 3 week sports void in your life?
Pick the final order of finish for the AL & NL in Round 1, ranking players 1-5 by using the dropdown menus. A perfect bracket could win you $25,000.
Sports are more than simple competition to us (though that is a must), it's more about the athleticism, community, and camaraderie. A few requirements for you as you seek your sports fix over the next 3 weeks:
Go outside
Be active and break a sweat
Involve your friends, family, and neighbors
Have a degree of friendly(ish) competition
In absence of statistics, work on better understanding rules, techniques, and form
Living in San Diego, I have all year to do outdoor sports and be active, but with work, school, and following other sports I don't take the time to enjoy them as actively as I would like to. Over the next three weeks I'm going to capitalize on my down-time by involving as many people around me as I can in learning and developing skills in the following:
Golf (Driving Range): You know where your swing lacks…work on it.  Take a date, take your friends, take your parents or kids.  Play HORSE and pick a target and a club then let each person take their shot (hitting the ball picker-upper is bonus).  Winner gets their lunch or beer on the losers' check.  You might be surprised how well you shoot when you're relaxed and having fun.
Batting Cages:  Ever criticize the big leaguers when they swing and miss at the 100 mile/hour fast ball that was "so simple and right down the middle"?  Try your luck at the batting cages.  Start it at 55 and work your way up.  Actually, you…you should start with the ball on a T.
Tennis:  Run, run, run your ass off.  The amount of cardio that tennis provides while wearing polo is surprising if you are new to it, or haven't played in a while.  Start out by just getting some solid rallies going and once you're tired enough to make each serve matter, focus on getting a consistent loft on the serve.  It's amazing how this alone will lead to a better serve.
Beach Volleyball: No spikes in girls' faces, dive with a purpose, enjoy the scenery.
Pickup basketball: Face it, you haven't played pickup basketball down at the park for a while.  You enjoy it and always feel good during and after, so why don't you play more?  Probably too busy, no one else wants to play, or the arcade game at the bar is enough to validate your skills.  Dust off your shoes, put on your headband, and hike up your socks and get out there.